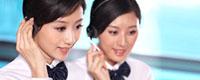 Name: Mr.Hu胡先生
Tel: 15868229433
Fax: 0086-577-85989655
E-mail: patrick@cnjdgy.com
QQ: 1079338461
Add: No 111 , Longwan District ,Wenzhou,China

Different Grades of Stainless Steel
Look into my crystal ball and tell me what you see. Do you see any stainless steel in there? Stainless steels are broken down into several different grades based on their crystalline structure (which, sad to say, has nothing to do with crystal balls). A crystalline structure is the unique arrangement of atoms in a crystal. Recall stainless steel is a ferrous alloy that is distinct in that it has chromium content greater than 10% which is what gives stainless steel its "stain less", or anti-corrosive and anti-rust, property.
There are four major grades of stainless steel on the market today. Let s take a look at each of them and define what they are composed of and major uses for that particular grade.
Austenitic stainless steels comprise over 65% of total stainless steel production in the world today. This particular grade of steel contains a maximum of 0.15% carbon, a minimum of 16% chromium and sufficient nickel or manganese to retain an austenitic structure at all temperatures from the freezing to the melting point of the alloy. A typical Austenitic stainless steel composition is 18% chromium and 10% nickel, commonly known as 18/10 stainless and is often used for flatware. Superaustenitic stainless steels exhibit great resistance to chloride pitting and crevice corrosion due to high Molybdenum contents and nitrogen additions. The higher nickel content ensures better resistance to stress-corrosion cracking. The higher alloy content of superaustenitic steels means they are quite costly and similar performance can usually be achieved using duplex steels at much lower cost.
The next grade of stainless steel is known as Ferritic. Ferritic stainless steels are highly corrosion resistant, but much less durable than austenitic grades. Ferritic steels cannot be hardened by heat treatment. They typically contain between 10.5% and 27% chromium and very little nickel, if any. Most compositions include molybdenum; some, aluminum or titanium.
Martensitic stainless steels are not as corrosion resistant as Austenitic or Ferritic stainless steels, but are extremely strong and durable as well as highly machineable, and can be hardened by heat treatment. Martensitic stainless steel contains chromium (12-14%), molybdenum (0.2-1%) and about 0.1-1% carbon (giving it more hardness but making the material a bit more brittle). There is no nickel content in Martensitic stainless steels. Martensitic stainless steels are magnetic by their composition.
The odd ball out for stainless steels is the Duplex class. Duplex stainless steels have a mixed microstructure of austenite and ferrite, the desired result being to produce a 50:50 mix. Although in commercial alloys the mix may be 60:40. Duplex stainless steels have improved strength over austenitic stainless steels and also improved resistance to localized corrosion particularly pitting, crevice corrosion and stress corrosion cracking. Duplex stainless steels are characterized by high chromium and lower nickel contents than austenitic stainless steels.
Brief Info :
ChuangYe Metal are professional manufacturer for stainless steel seamless pipe ,stainless steel welded pipe ,stainless steel pipe fittings ,stainless steel flanges . our main products including : stainless steel seamless pipe ,stainless steel welded pipe ,stainless steel pipe fittings ,stainless steel flanges etc
【 Go Back 】 | 【 Print 】 | 【 Close this window 】