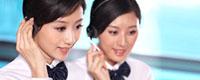 Name: Mr.Hu胡先生
Tel: 15868229433
Fax: 0086-577-85989655
E-mail: patrick@cnjdgy.com
QQ: 1079338461
Add: No 111 , Longwan District ,Wenzhou,China

Different types of Stainless steel Stub ends
Brief Info :
ChuangYe Metal are professional manufacturer for stainless steel seamless pipe ,stainless steel welded pipe ,stainless steel pipe fittings ,stainless steel flanges . our main products including : stainless steel seamless pipe ,stainless steel welded pipe ,stainless steel pipe fittings ,stainless steel flanges etc
Different types of Stainless steel Stub ends
Stainless steel Stub ends come in three different types, named "Type A", "Type B" and "Type C". (And Stainless steel collar for En 1092-1 flanges )
Type a and B are manufactured with cast or forged materials.
The first type (A) is manufactured and machined to match standard lap joint backing flange (the two products have to be used in combination). The mating surfaces have an identical profile to permit a smooth loading of the flare face.
Stub ends type B are have to be used with standard slip-on flanges.
Type C stub ends can be used either with lap joint or slip on flanges and are manufactured from pipes.
The most widely diffused type of fabrication is with a flare machine, which flares the end of the pipe and then cuts it to length. Stub ends are available in two different patterns, the short (used with larger flanges for ASME 300# and 600#) and the long type (known as ASA stub ends, used for most sizes from class 900 & above).

【 Go Back 】 | 【 Print 】 | 【 Close this window 】